POLLOCK & POLLOCK / Isabelle REBRE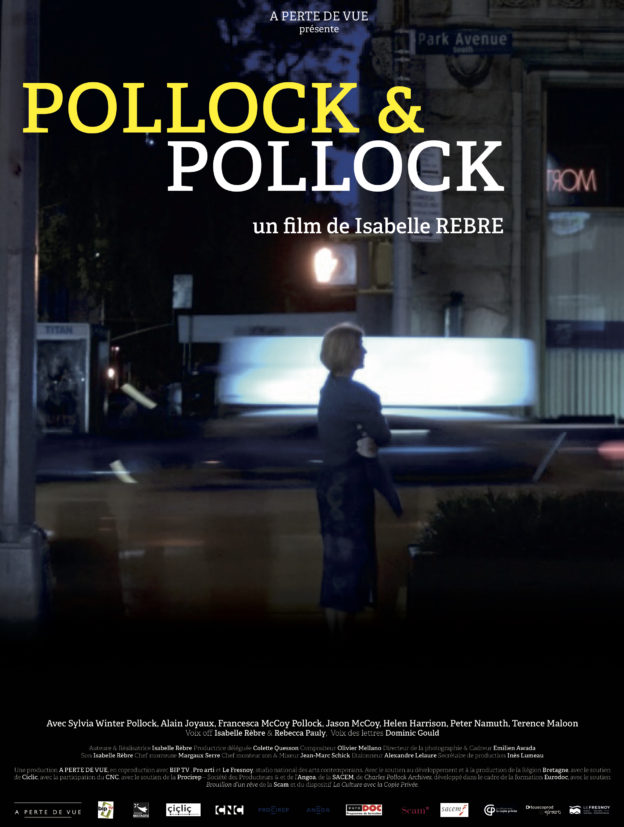 2020— 84'
Documentary
Synopsis
Jackson and Charles Pollock, two brothers, two painters, are caught up in the twists of twentieth century American history. The electrical center of their trajectory is New York. Their correspondence resonates with it, questions a myth and brings a painter out of the shadows.
With
Sylvia Winter Pollock, Alain Joyaux, Francesca McCoy Pollock, Jason McCoy, Helen Harrison,
Peter Namuth †, Terence Maloon / Voices : Isabelle Rèbre, Rebecca Pauly et Dominic Gould.
Artistic and technical team
Author and director / Isabelle Rèbre
Photography and frame / Emilien Awada
Original music / Olivier Mellano
Sound / Isabelle Rèbre
Editor / Margaux Serre, Marie-Pomme Carteret
Sound editing and mix / Jean-Marc Schick
Colorgrader / Alexandre Lelaure
Executive Producer / Colette Quesson
Production's assistant / Inès Lumeau
Production manager / Emmanuelle Jacq
Editing intern / Raffaelle Bloch
Production interns / Juliette Le Ruyet, Déborah Gillet, Natalia Gomez Carvajal

Director's biofilmography
Isabelle Rèbre directs documentaries, among which several artists' portraits. In 2001, Charles Rojzmann, social therapist (Arte). In 2003, the portrait of the cinematographer André S. Labarthe from head to foot (Ciné-Cinéma and Lussas). In 2006, she directed Jean Rustin's painting. For a command of ZDF-Arte, she directed After the anger, portraits of high school students and students battling against the CPE. In 2013, she directed Ricardo Cavallo or dream of the sparrow hawk, portrait of the painter. In 2020, she finishes Pollock&Pollock, first feature documentary about American painters Jackson and Charles Pollock.
Isabelle Rèbre is also dramatic author and essayist. In 1998, she published Moi quelqu'un (Actes Sud Papier). Her last play, End inspired by Ingmar Bergmanlast years, has been created by Bernard Bloch (Réseau Théâtre) in 2014. Echoing this text, she wrote an essay The last photography on the use of the photography in Saraband, the last movie of Bergman (La Lettre Volée, 2017).
Since 1983, Isabelle Rèbre produced for France Culture around thirty radio documentaries, largely in touch with the art and the literature : In search of Unica Zürn, writers in exile, Kateb Yacine, The brothers Pollock… She also teaches documentary cinema in Paris 8 where she is completing a doctorate.

Production
A film produced by A Perte de Vue,
Executice producer / Colette Quesson
In coproduction with BIP TV, Proarti and Le Fresnoy, Studio national des arts contemporains.
With Bretagne Region's development and production funds, with Ciclic and SACEM. With the participation of CNC. With the support of PROCIREP, Société des producteurs and Angoa. Withe the support of Cinéastes en résidence-Périphérie and Charles Pollock Archives. With the support of Brouillon d'un rêve – SCAM. Developed within the framework of EURODOC.