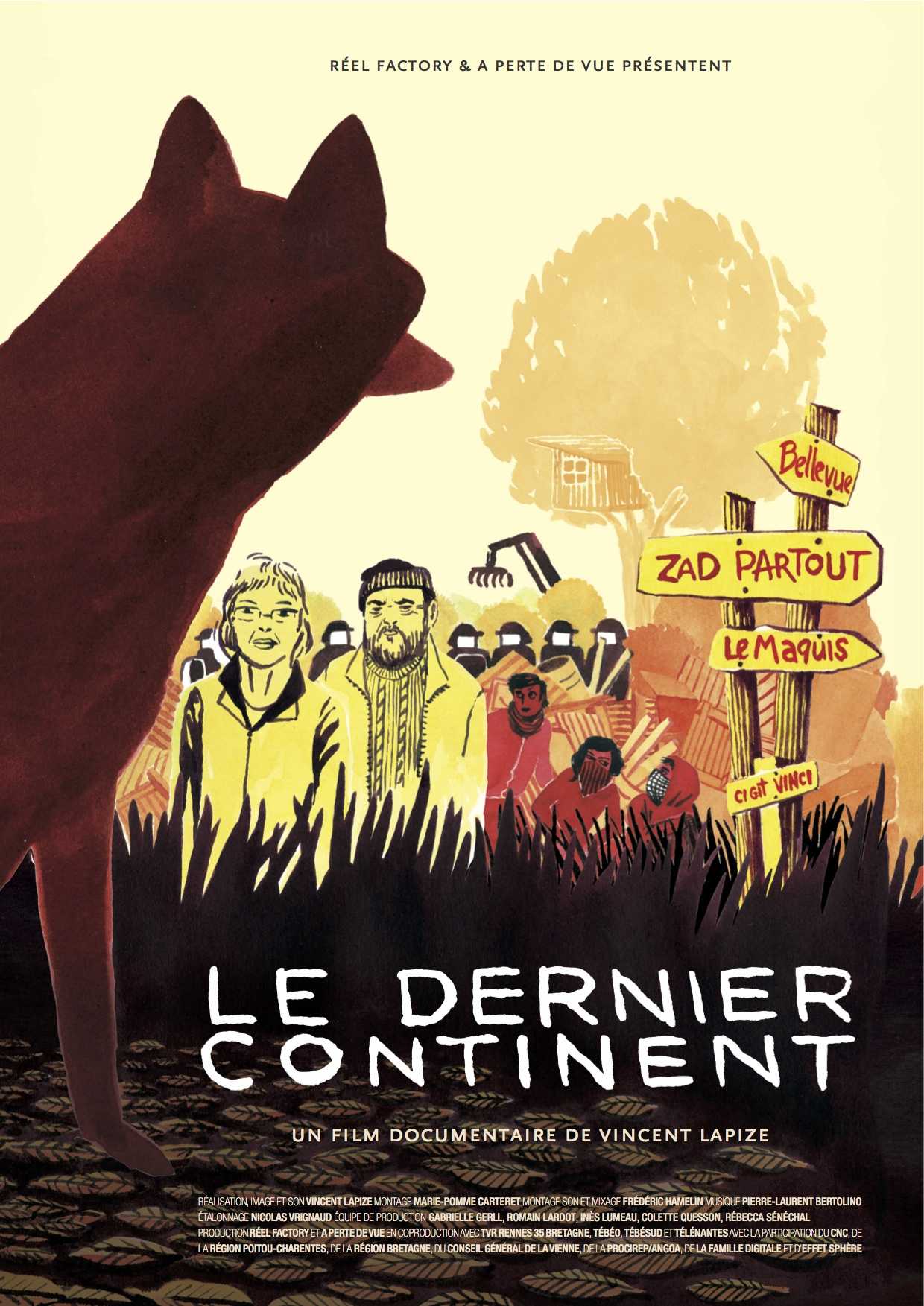 Feature documentary – 77′ – 2015
Synopsis
Over two years, from spring 2012 until spring 2014, The Last Continent offers a subjective immersion into an evolving political experiment: the one set up by those opposed to the Great-Western Airport project in Notre-Dame-des-Landes, near Nantes in France. The film shows two portraits; one of a place, the Defended Zone, i.e. 2000 hectares of forests and prairies, and one of a few activists with diverse profiles, but who all share on a daily basis an untypical political experience.
Production
Produced by A Perte de Vue, in coproduction with Réel Factory, Télénantes et the Union of the local channels of Bretagne, TVR Rennes35Bretagne, TébéO et TébéSud.
With the support of the CNC, and the Région Bretagne, and Région Poitou-Charentes, anf of the Département de la Vienne, and the PROCIREP-ANGOA, and witn the participation of the Effet Shpère of the Famille Digitale.
Selected as one of the best documentary by Médiapart.
Selected as one of the 10 best documentaries of the year by La Croix.
MONTREAL / Cinéma sous les étoiles – August 2016 / LA ROCHELLE International Film Festival – July 2016 / PARIS Festival Hors Pistes, Beaubourg – May 2016 / LILLE Ecollywood -(Preview) – October 2015 / DOUARNENEZ Film Festival (Preview) – August 2015 / MELLIONNEC Rencontres du film documentaire (Preview) – June 2015 / POITIERS Festival Raisons d'Agir (Preview) – April 2015 / REDON Ciné Manivel (Preview) – April 2015 / NOTRE-DAME-DES-LANDES Université populaire anarchiste du Haut Fay – April 2015