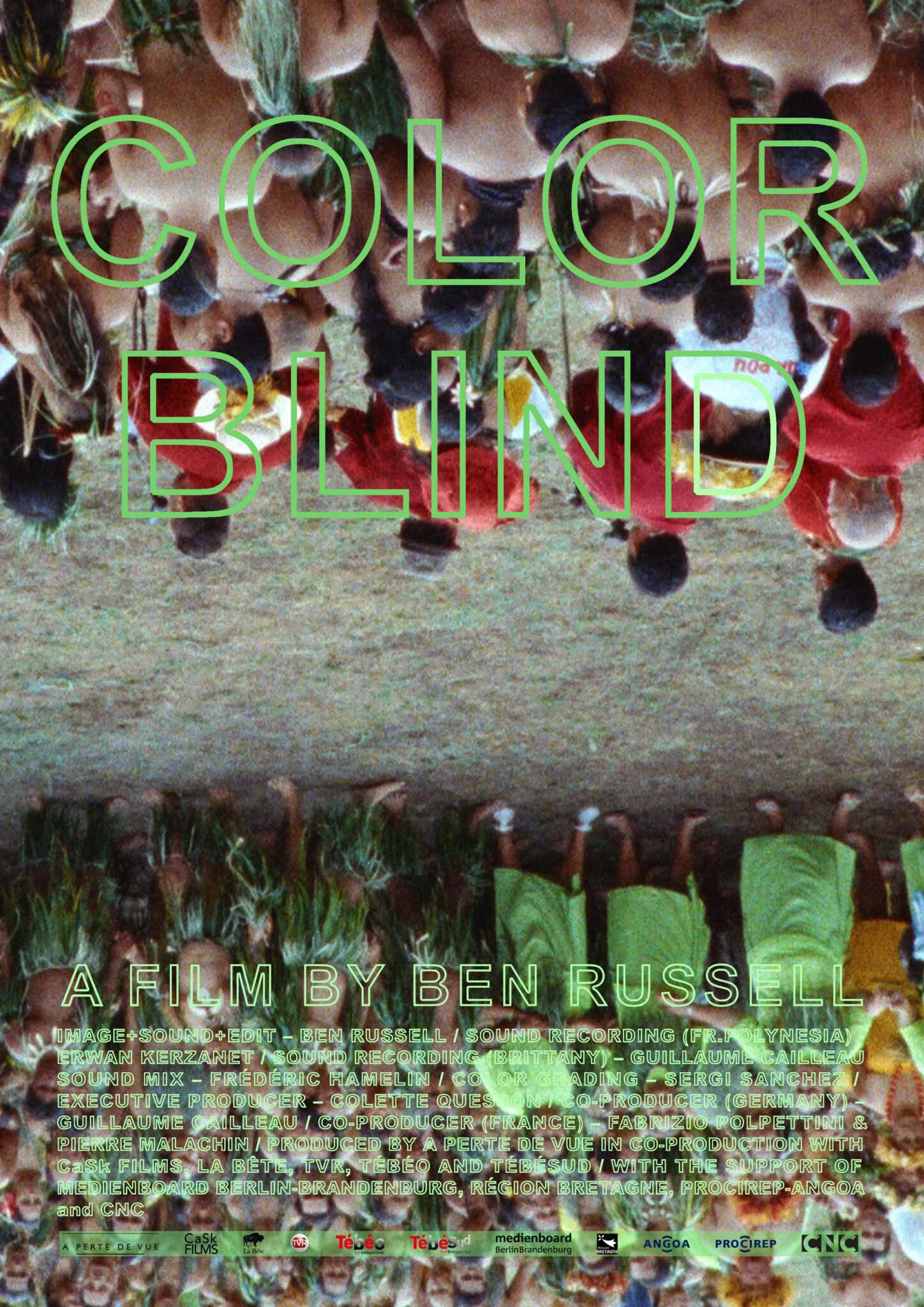 Documentary – 30′ – 2019
Synopsis
A deliriously synaesthetic S16mm portrait made between French Polynesia and Brittany, COLOR-BLIND recruits the restless ghost of Paul Gauguin as an uneasy spirit guide in excavating the colonial legacy of a decidedly syncretic post- post-colonial present. Featuring im/material guest appearances by: white-tipped reef sharks, Aldous Huxley's Island, Marquesan techno, authorized Gauguin reproductions, Bretagne dance competitions, an illegal kava ceremony, the beach from the 4th season of Survivor, the long decay of French nuclear testing in Polynesia (1960-1996), and so much more.
Production
Executive producer : Colette Quesson,  A Perte de Vue
Coproducer / Germany : Guillaume Cailleau, CaSk Films
Coproducer / France : Fabrizio Polpettini, Pierre Malachin, La Bête
Produced by A Perte de Vue, in coproduction with CasKFilms Berlin, La Bête, TVR, TébéO and Tébésud, chaînes locales of Bretagne.
With the support of the Région Bretagne, Medienboard Bradenburg-Berlin, Procirep-Angoa and the participation of the CNC.
AUSTRALIE / Environmental Film Festival Australia (EFFA) 2021, AUTRICHE / Viennale 2019, CHILI / Frontera-Sur, 3o International Non-Fiction Film Festival Concepción 2020, BRESIL / Festival ECRÃ Rio de Janeiro 2020, CHINE / Beijing International Short Film Festival 2019, EQUATEUR / Cuenca Festival Cámara Lúcida 2020, ESPAGNE / Curtocicuíto International Film Festival Santiago de Compostelle 2019 Cineteca Madrid 2020, ETATS- UNIS / New York Film Festival 2019 Chicago International Film Festival 2019, Los Angeles Redcat 'Murs Murs' 2019 Los Angeles, short program American Cinematheque 2019 , Iowa City International Documentary Film Festival 2020 FRANCE / Cinéma du Réel 2020 Hors compétititon, Festival Travelling Rennes 2020 JAPON / Yebisu International Festival for Art & Alternative Visions 2020, LITHUANIE / Kaunas Film Festival 2019, PORTUGAL / Curtas Vila do Conde International Film Festival 2020, SUISSE / Locarno International Film Festival 2019