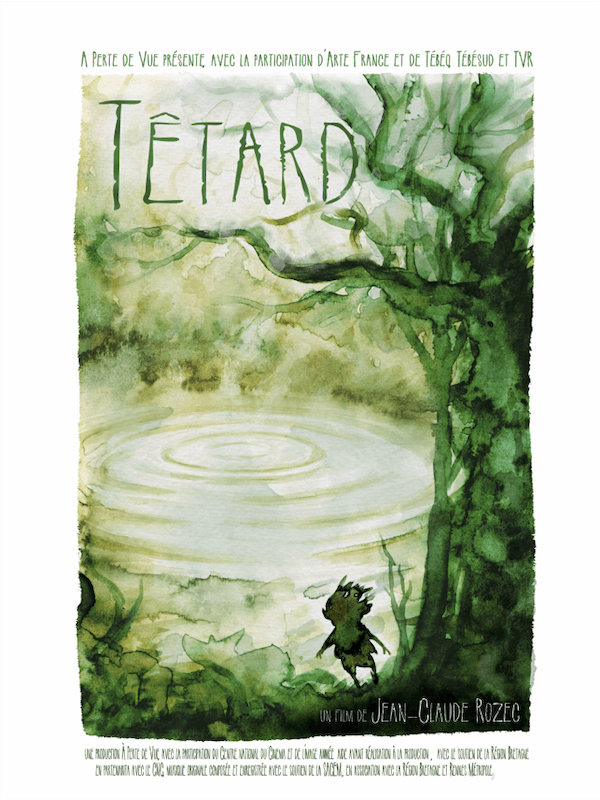 Animated short film – 14′ – 2019
Synopsis
I was very little, but I still remember it very well. Mom and Dad saw nothing, but I knew it right away. That thing that was in the cradle, wasn't my little brother. No. It was you. You already had that funny face. And you stank… Right, Tadpole?
Cast
Gaspard / Léane Coulibaly, Lola / Elisa Le Bel-Sorel, La maman / Solène Quintin, Le papa / Jules Garreau
Production
Produced by A Perte de Vue, in coproduction with ARTE France, Tébéo, Tébésud, TVR, les chaînes locales de Bretagne supported by the  Région Bretagne / with the participation of the Centre national du cinéma et de l'image animée-support to pre direction until production / with the support of the Région Bretagne in partnership with the CNC / Original soundtrack composed and recorded with the support of the SACEM, in association with the Région Bretagne and Rennes Métropole.
FRANCE/International Animation Film Festival Annecy 2019 international competition, Festival du Film d'Animation de Paris 2019, Ateliers d'Angers 2019 Outdoor screening, Festival du Film d'animation pour la jeunesse (Hors compétition) Bourg-en-Bresse 2019, Festival Européen du Film Court de Brest 2019, Festival International du Film de La Roche-sur-Yon 2019, Les Nuits Magiques Bègles 2019, Paris Courts Devant 2019, Festival national du film d'animation Rennes 2020, Voix d'étoiles, Leucate 2019, Un poing c'est court, Vaulx-en-Velin 2020, Festival du court métrage, Clermont-Ferrand 2020, Festival Ciné Junior,Val-de-Marne 2020, Festival Travelling Rennes 2020, Ciné court animé Roanne 2020, Festival de cinéma d'animation de Pontarlier 2020, Festival International du Film Court d'Angoulême 2020, Festival International Ciné-Jeune de l'Aisne, Saint-Quentin 2020, Festival national du film d'animation, Rennes 2020, Saint-Pierre Short Film Festival, Reunion Island 2020, Ecran libre, Aigues-Mortes 2020, Festival de Douarnenez 2021 RUSSIA/Insomnia Festival Moscow 2019, SPAIN/International Fantastic film Festival Catalonia Sitges 2019, Animac, Lleida 2020, Animario, Madrid 2020, Weird International Animation Market, Segovia 2020, SOUTH KOREA/Bucheon Animation Film Festival 2019, SWITZERLAND/Animatou Geneva 2019, ITALY/Tocatì Festival Verona 2019, Figari Film Fest, Sardinia 2020, Imaginaria Film Festival, Conversano 2020, LITHUANIA/Tindirindis Vilnius 2019, USA/Chicago International Children's Film Festival 2019, Palm Springs International Film Festival 2020 ROMANIA/Anim'est Bucharest 2019, GREECE/Thessaloniki Animation Festival 2019, CANADA/Spark Animation, Vancouver 2019, Giraf, Calgary 2019, Edmonton International Film Festival 2020, Festival du cinéma international en Abitibi Témiscamingue, Rouyn-Noranda 2020, Images en vue, Iles-de-la-Madeleine, Québec 2020, PORTUGAL/ Cinanima, Espinho 2019, Curtas Vila do Conde 2020, MEXICO/CutOut, Queretaro Animation Film Festival, POLAND/Ale Kino! Poznan International Youth Film Festival, Animocje, Bydgoszcz 2020, Animator Poznan 2020, Zubroffka, Bialystok Short Film Festival 2020, LATVIA/2ANNAS Riga International Short Film Festival 2020, ASIA/Big Eyes, Big Minds, Singapore 2020, GERMANY/Trickfilm Festival Stuttgart 2020, International Short Film Festival Oberhausen 2020, Kuki International Short Film Festival for Children and Youth, Berlin 2020, SWEDEN/Stockholm International Film Festival Junior 2020, CZECH REPUBLIC/Anifilm, Liberec 2020, CROATIA/Animafest, Zagreb 2020, AUSTRIA/Alpinale, Bludenz 2020, SLOVAKIA/Fest Anca, Zilina 2020, NETHERLANDS/Cinekid Festival Amsterdam 2020, TURKEY/Accessible Film Festival 2020, TAIWAN/Kaohsiung Film Festival 2020, GEORGIA/Tofuzi International Batumi Animation Film Festival 2020, FINLAND/Festival Animatricks 2021